Intel vs. AMD vs. M1 – There was once a time when people would not have to think about buying processors for their next PC build, not because the processors were the best, but because there was only one name in the market of processors – Intel.
Recommended: Intel says its chips are better through some Intel favored benchmark tests than the M1 chip of Apple (News)
Guess what? The game has changed, with the likes of AMD; Intel has been literally crushed with the affordability of AMD and extreme performance, the likes of which Gamers hadn't seen in a while from Intel.
Now we are hearing there's a new kid in the town, and he wants to take a hand on the formers. Well, he may have the capacity to do so, but is it possible to take down Intel?
Let's dive deep into the rivalry between Intel vs. AMD vs. M1.
Intro to the Trio – Intel vs. AMD vs. M1
Intel was founded on July 18, 1968, and is the most used processor company in personal computers, making it the largest and highest valued semiconductor chip manufacturer based on revenue. This is the first one of the trio of Intel vs. AMD vs. M1.
AMD was founded on May 1, 1969, and silently raised to be the most painful headache for Intel ever. They worked as secondary sources of chips, distributors of processors from other companies, and even outsourced manufacturing technology to survive in the long run. This is the second one of the trio of Intel vs. AMD vs. M1.
Apple's MacBook series started being sold in January 1984. While until recently, Macintosh wasn't in the field of chips, the personal computer series by Apple has always been praised for its graphical user interface. This is the third one of the trio of Intel vs. AMD vs. M1.
So, what happened?
Intel and its Pricing – Just too much!
Intel had its own way of producing chips and it had a price for its processors, one a bit high than the normal customer expectations. As a result, many started complaining about the price to performance ratio value for money of Intel. The first one of the trio of Intel vs. AMD vs. M1 did not do well here.
Their Latest Processor Model, Price, and Specifications:
Model: Intel Core i9-10980XE Extreme Edition
Price: $899.99
Specifications:
24.75 MB Cache
18 cores
36 threads
4.60 GHz Max Turbo Frequency
Note: We did not include any 11th Generation ones.
AMD – The Game Changer
AMD caught the eye of the people with its super affordable processors compared with Intel, and AMD has never let us down. They constantly produced better 'value for money' chips and delivered what we could not even imagine with the Intel Processors in that same price range. The second one of the trio of Intel vs. AMD vs. M1 did do well here.
Update: With the latest processors, AMD is now gradually sitting in the throne of the world of processors as they want for their processors is just above the sky. The price, therefore, is more than Intel's processors nowadays, though AMD offers much much much more which justifies that by a bit.
Their Latest Processor Model, Price, and Specifications:
Model: AMD Ryzen Threadripper 3990X
Price: $4,000+
Specifications:
256 MB L3 Cache
64 cores
128 threads
4.30 Max Boost Clock Frequency
Whoa! So none of them is Robinhood, right? They all are here to do business. But we got no problem with that as long as AMD provides us the value we need, and crave.
M1 – A breakthrough for Apple
Apple was using the chips from Intel inside its MacBooks from 2006, until recently. At the end of 2020, Apple released the brand new Mac Air, Mini, Pro powered by the powerhouse – M1. The last one of the trio of Intel vs. AMD vs. M1 did show outstanding performance here.
A major point here – M1 is for laptops, so do not expect the above specifications to be put inside this. Rather we will show you the comparison.
CPU:
GPU: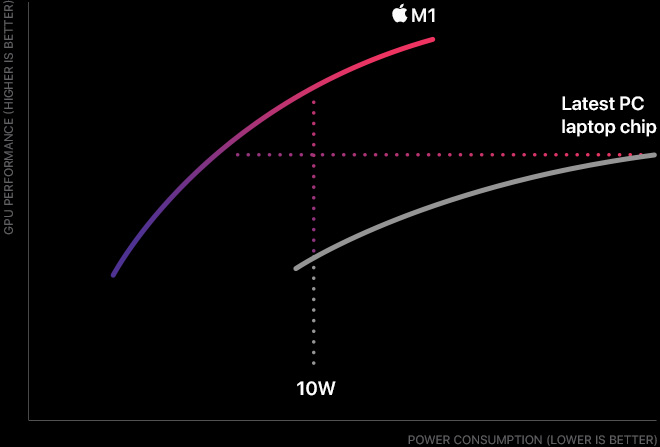 I know that we should not be focusing on Apple solely, and we didn't, all the other CPU and GPU benchmark tests show the same results (almost). In some areas, the formers still are ahead, but not by a great margin. And again, M1 is not that much ahead as Apple claims than AMD, though surely it crushes Intel.
Final Words
So, the game is on. Apple has entered the game with its very first cutting-edge processor which is, pretty much a bomb. Let's see how much Apple can take this with their MacBook Lineup, while Intel and AMD try to backfire at Apple. (Intel already did! With benchmarks)
All in all, the battle is getting more interesting. We do not have anything to lose if any of the companies bring out better products than the others, so, it's a win-win situation.